by Grecia Martinez
Generally worn by soldiers, the Hessian Military Riding Boot dates to 18th century German. As trade became more prevalent during the 18th and 19th centuries, the boots were introduced to the Americas and were used in armed conflicts against Britain. The boots were sturdy and long-lasting, made from leather, and included a steel shank in the construction. However, the boot's look was still appropriate for practical events. In combination with the tough construction, these boots became desirable to high society men in the 19th century. The Hessian boot resembled contemporary "Cowboy" boots, at least construction-wise. They were nearly knee high, made of black leather, and ornamented with tassels and a short heel. However, all trends come to an end, or as former creative director of Chanel, Karl Lagerfeld once said, "Trendy is the last stage before tacky." And by tacky, I'm of course referring to the awful tassel.
The Hessian boot gave way to the Wellington and the modern rubber Willy. In the transition to the Wellington, the Hessian lost the tassel and were shortened for comfort while riding. According to English heritage, military fashion was introduced to civilian life to recruit soldiers. The Wellington (still constructed with leather) was highly popular, especially because Arthur Wellesley, both a military commander and later Prime Minister, wore them. In the mid-1800s, factories began manufacturing rubber Wellingtons, but they did not become widespread until the early 20th century to combat trench foot during World War I. The condition resulted from one's feet being wet too long. Rubber Wellingtons helped soldiers' feet to stay clean and dry, preventing a painful and dangerous condition. The modern Willy is a rubber boot that is a practical everyday item used in farms and gardens and comes in an assortment of colors and designs, used by both adults and children.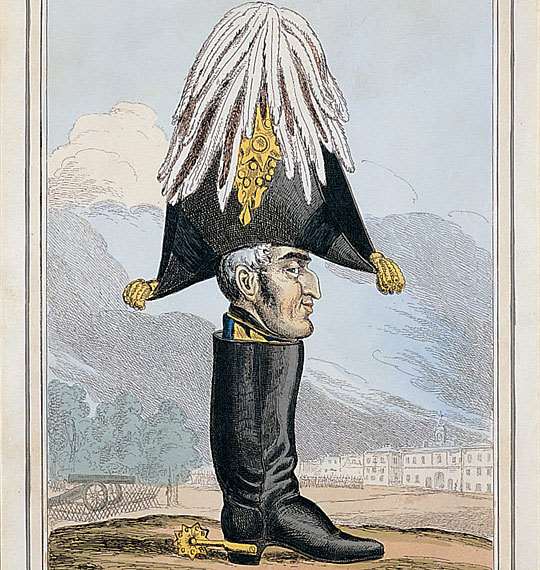 Through the Wellington, the Hessian style similarly influenced modern American Cowboy boots. One big difference between the Wellington and the modern Cowboy boot was that the former was constructed of calfskin, a softer construction, whereas the latter was constructed of cowhide, which is much thicker. The change was necessary for the cowboy or rancher as a barrier against snakes and other hazards.
As the trend has been so far in this story, the use of these work boots became fashionable with the rise of Western films in the 1950s. Today, the cowboy boot had become a symbol of American patriotism. These boots can be constructed of many materials, a diverse range of animal skins, colors, designs, and styles. But in the fashion industry, the boot is not always built for durability.
There have been a few consistent themes throughout this story so far: utility, mass-production and consumption, and trade among the most important. Shoe-making technology has developed an immense amount. From the use of leather to waterproofing, designs that were originally developed for military purposes are now widespread in the shoe-making industry. We see these same functional designs implemented into the modern hiking boot. Originally developed for hunters and other workpeople, they are also used for recreational activities. Forest History explains how as the United States began to industrialize, people spent less time outdoors. This created a demand for outdoor activities leading to the creation of outing clubs, parks, and natural areas. As the demand for outdoor recreation has grown, so has the demand for adequate gear. Forest History claims that hiking gained popularity because it was affordable and easily accessible. Yet, they overlook the "adventure gap", affecting low-income and minority individuals. According to Outdoor Foundation, "40 percent of people who participate in outdoor recreation have household incomes of $75,000 or more." The construction of a durable hiking boot requires costly materials resulting in expensive and often inaccessible products.
In response, companies like Timber Wolf have tried to provide less expensive hiking boots. Yet, a feasibility analysis by Naoki Hashizume explains the most likely scenario for Timber Wolf's manufacturing plant in Paraguay would be the exploitation of Paraguay's cheap labor and materials to lower the price of the shoes. The alternative is using cheaply made hiking boot look-a-like, meant to be worn in everyday wear.
While hiking boots can engender environmental hope through outdoor activities like visiting national parks, hiking, or just walking in nature, they can also drive environmental despair. History reveals how as utilitarian products like shoes often enter the fashion industry, demand can grow, and cheaply made products that only last a season continue to cycle through. While shoe-making technology has developed, the materials used in shoes have become increasingly harmful. The production of rubber leads to harmful toxic chemicals and products that are harmful and dangerous to discard. We are stuck in the cycle of consumerism that continues to harm not only the environment, but the lives of people we do not see. Those who participate in fast fashion are blamed for using products that do not last, made from materials that are bad for the environment. However, when people cannot afford more than a ten-dollar t-shirt, one can hardly blame them. Ideally, these conditions would change to reduce consumption as the "trend" for ethical sourcing and consumption.
Ayotte, A. (2019, August 9). Hessian boots, some of our research. Fugawee. Retrieved February 27, 2022, from https://www.fugawee.com/2019/08/09/12357/
Hashizume, N. (2001). STEP INTO BOOTS, STEP INTO PARAGUAY: A FEASIBILITY ANALYSIS OF MANUFACTURING HIKING BOOTS IN PARAGUAY. Undergraduate Research Journal, 4, 40–46. https://doi.org/https://scholarworks.iu.edu/journals/index.php/iusburj/article/view/19809
The interesting history of the cowboy boot. Tim's Boots. (n.d.). Retrieved February 27, 2022, from https://timsboots.com/blog/the-interesting-history-of-the-cowboy-boot/
Hiking in America. (2017, March 13). Forest History Society. Retrieved February 27, 2022, from https://foresthistory.org/research-explore/us-forest-service-history/policy-and-law/recreation-u-s-forest-service/hiking-in-america/
Machado, A. (2017, July 10). The strangeness of being a Latina who loves hiking. Vox. Retrieved February 27, 2022, from https://www.vox.com/first-person/2017/7/10/15935142/hiking-outdoors-latinx-identity
Nelson, C. (1984). Those Funny Looking Shoes…: Sport or Camp Shoes in the Civil War. Military Images, 6(3), 23–23. http://www.jstor.org/stable/44031710
Newcomb, E., & Newcombe, E. (2016). Camping, Climbing, and Consumption: The Bean Boot, 1912-1945. Material Culture, 48(1), 10–27. http://www.jstor.org/stable/44507770
Sidell, M. (2022). Outdoor frenzy ushers in age of the high-fashion Hiking Boot. Yahoo! Finance. Retrieved February 27, 2022, from https://finance.yahoo.com/news/outdoor-frenzy-ushers-age-high-050136133.html
Step into the history of the hiking shoe. Waterproof, Windproof & Breathable Clothing. (2016, March 1). Retrieved February 27, 2022, from https://www.gore-tex.com/blog/step-into-history-of-hiking-shoe
What are Hessian Boots? ShoeIQ. (2021, March 5). Retrieved February 27, 2022, from https://shoeiq.com/hessian-boots/
Who invented hiking boots? Who Invented Hiking Boots? | Backroads Pro Tips. (n.d.). Retrieved February 27, 2022, from https://www.backroads.com/pro-tips/hiking/who-invented-hiking-boots
Willard-Wright, R. (n.d.). The invention of the Wellington Boot. English Heritage. Retrieved February 27, 2022, from https://www.english-heritage.org.uk/visit/places/walmer-castle-and-gardens/history-and-stories/invention-wellington-boot/